Jun.27, 2023Announcement: Game System Unlocked and Twitter Campaign Launched. | ECWiz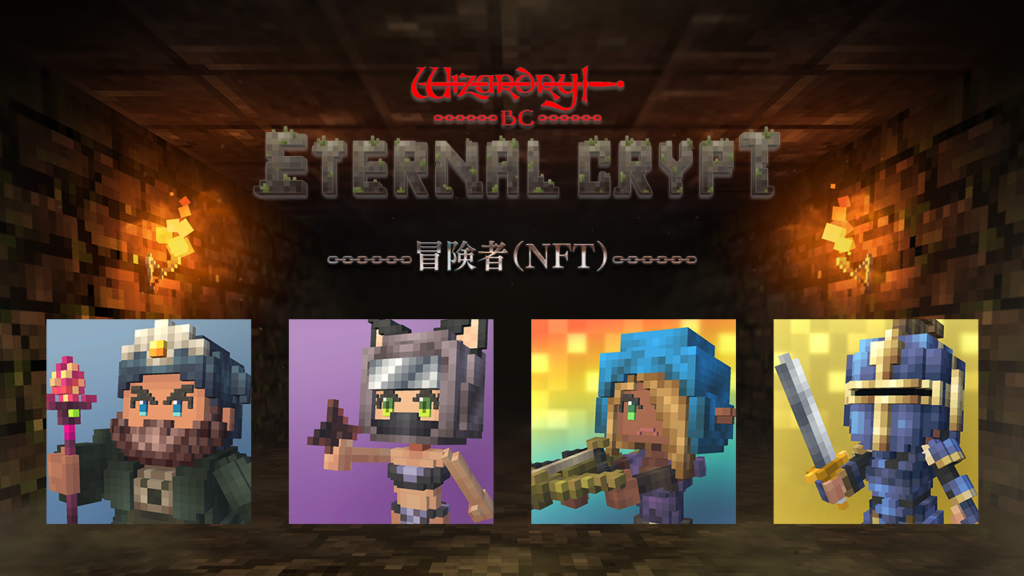 The first release of information on the "adventurer (NFT)" character, some of the game screens, and the game system that will appear in the story of the quest to reach the seemingly endless depths of "Dadoel Abyss"! We will continue to provide information on the project roadmap and NFT sales on our official website, so be sure to follow us on social media to stay up-to-date on the latest news.
Twitter campaign is underway with the release of the official website!
In conjunction with the release of the official website and game information, a follow & retweet campaign will be conducted on the official Twitter account of "Eternal Crypt -Wizardry BC-". If users who follow the official account retweet a specific post between June 27, 2023 and June 30, 2023, they will be entered into a drawing to win an original T-shirt, that is exclusive for this title. Please take this opportunity to participate. For details, check the official Twitter!
"Eternal Crypt -Wizardry BC-" Official Twitter Account: https://twitter.com/WizardryBC_EN
Appearing characters of "Eternal Crypt -Wizardry BC-"
The "adventurers" in the game consist of four races (Human, Elf, Dwarf, and Felpurr) and eight job classes (Fighter, Priest, Mage, Thief, Clergy, Samurai, Liege, and Ninja). The abilities of the adventurers differ according to race and job class, and each has its own strengths and weaknesses, so players, as guild masters, must seek ways to efficiently advance in the game by rearranging their parties to suit the situation.
Game system of "Eternal Crypt -Wizardry BC-"
The game system is a cross between a clicker game and a strategy game. The player acts as a guild master with up to 36 adventurers and aims for the depth of "Dadoel Abyss", a mysterious dungeon shrouded in mystery. Players will be able to return to the city from the dungeon to obtain Blood Crystal and treasure chests. The deeper the dungeon is, the more likely it is that the guildmaster will be able to gain more rewards than in previous adventures, requiring the guildmaster to strategically organize, increase proficiency, and heal adventurers (NFTs) in order to successfully advance deeper into the dungeon. Treasure chests that the player may come across may contain traps, and failure to detect them will result in severe penalties.
Other "Wizardry" elements include rare items such as "Adventurer's Ashes". If the "Lost Soul" can be found, the ashes can be revived as adventurers and can be added to the player's guild as new companions.
This is a game that offers both a game system that anyone can play easily and a strategic game that will test your "wits" to play through a "Wizardry" title.
Official Website: https://wiz-eternalcrypt.com
Twitter (Japanese) : https://twitter.com/WizardryBC_JP
Twitter (English): https://twitter.com/WizardryBC_EN
Discord : https://discord.gg/SDUZu7bjgk
Telegram : https://t.me/WizardryBC