Coincheck INO's first offering Eternal Crypt Wizardry BC has achieved a record AL application multiplier of 113.8 for the NFT collection!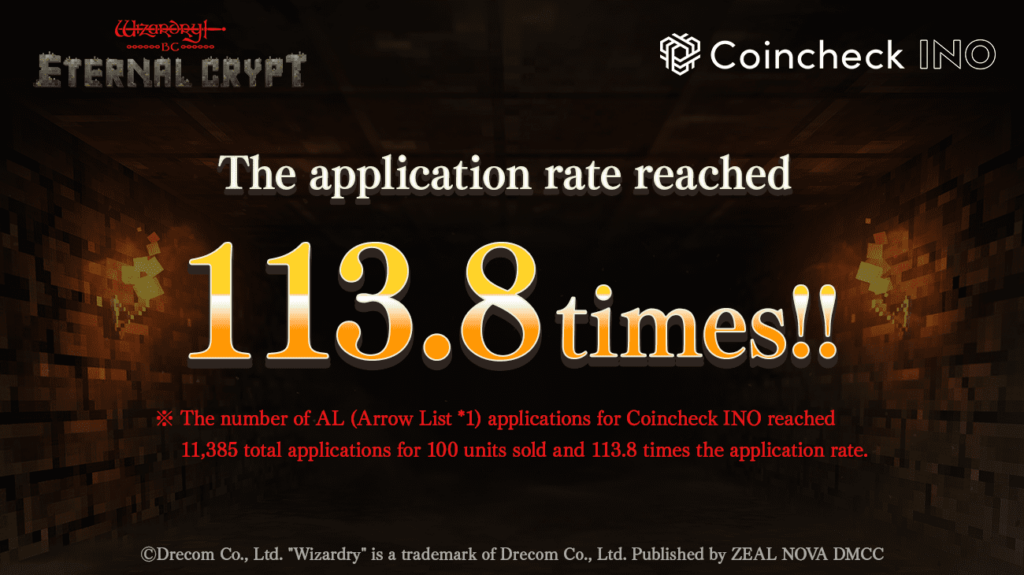 We are pleased to announce that the number of AL (Arrow List *1) applications for Coincheck INO, which was conducted from August 30th to September 4th, 2023 (JST), reached 11,385 total applications for 100 units sold and 113.8 times the application rate.

*1 AL stands for "Allow List. AL is used in many NFT projects both domestically and internationally. AL is a general term for the right to participate in a presale (pre-sale) earlier than the general sale or to purchase NFT at a lower price than the general sale if you are registered in AL in advance. The AL used by Coincheck INO in this case will be the right to purchase NFTs within Coincheck NFTs during the sale period on a first-come, first-served (FCFS) basis.
■ Sales of the Adventurer Genesis Collection on Coincheck INO will begin on Wednesday, September 6th at 8pm (JST)!
"Coincheck INO" is an NFT sales service provided by Coincheck, Inc. (Headquarters: Shibuya-ku, Tokyo).
The Adventurer Genesis Collection will be sold on Coincheck INO on a FCFS basis to AL winners, starting at 8pm on September 6th and ending at 8pm on September 8th (both scheduled at JST).
Coincheck will send a notification to AL winners after 3pm. on September 5th. AL winners will be entitled to purchase on a FCFS basis, and are not guaranteed to purchase.
The selling price is 0.24 ETH per unit (equivalent to 400USD as of August 29th, 12pm (JST), with a 20% discount exclusively for Coincheck INO).
■ About "Adventurer Genesis Collection"
Eternal Crypt Wizardry BC is going to sell special adventurer NFTs called the Adventurer Genesis Collection prior to the game's release. Users who purchase the Adventurer Genesis Collection, available only at INO, will be among the first to play the game during the pre-release period, and will earn a certain amount of the game token Blood Crystal ($BC token) by exploring dungeons and choosing "Return to town" with this NFT in their party before the token is issued. The Adventurer Genesis Collection will be allocated up to 20% of the $BC tokens issued, and holders of this NFT will be able to earn $BC tokens through game play. In addition, there will be a community and events that only holders of this NFT will be able to participate in.
■ About Coincheck INO
Coincheck INO is the sale of this first NFT collection through Coincheck's platform, Coincheck NFT. Coincheck INO will provide access to the customer base of Coincheck, the No. 1 crypto asset exchanger in Japan (*2), thereby supporting the formation of a highly enthusiastic community from the initial stages of the project.
Coincheck INO official website: https://nft.coincheck.com/INO